If you are a subscriber and haven't seen it in your e-mail box, please check your spam/junk folder. To subscribe, send an e-mail  request to the E-Blast Subscription Desk and add the E-Blast address to your "Safe Mail" list.

The E-Blast is an occasional publication of news and notes for Ruth's fans.
Issue #1: Fall 2020
Issue #2: December 2020
Issue #3: April 2021 
Issue #4: February 2022


Meet the E-Blast creator and editor, Jennifer Davis-Kay, HEREand subscribe by sending an e-mail to the E-Blast Subscription Desk.
Welcome!
Have you read LAZY BEDS, the newest title in Ruth Doan MacDougall's Snowy Series? It's available in both print and ebook formats. You may place orders through the Frigate Bookshop, where you'll find several purchasing options for both thepaperback and e-book versions.


Ruth usually updates her Facebook page on Sunday mornings. Join the conversation! (The Facebook entries are all reprinted HERE as well.)
Reader Features

Since 2018 Ruth has continued her "Ruth's Neighborhood" entries on her Facebook page. Ruth updates this column each week, usually on Sunday mornings, and fans are welcome to join the ongoing conversation. Below is this week's entry.
This entry and the directory of all previous entries, are archived here.
STRAWBERRIES AND SENIOR CITIZENS
May 29, 2022
To read below you may need to scroll.
May is National Strawberry Month, and I've been on the lookout for local strawberries at the market. I haven't yet seen any, but one of these days I'll be buying an abundant supply.
I never did try to grow strawberries. I think I was scared off by the strawberry chapter in a Ruth Stout gardening book; it was titled something like "If You Have Tears" and it was full of all the things that could go wrong. I feared I'd be weeping over a failed crop instead of enjoying a harvest. So in grocery stores and at farm stands I enjoy other people's successes.
I'm looking forward to special strawberry treats to make after I sate myself eating them plain. There is, of course, the traditional dessert since childhood: strawberry shortcake. As I've written about before, this was extra-traditional for Don and me because years ago we discovered in a secondhand store a set of glass dessert plates just like the ones his mother had. He especially remembered her serving strawberry shortcake on them. So we began serving ours on these secondhand-store plates, and I continue to.
And then there's what we called Blue Strawberies (one "r"), inspired by that avant-garde restaurant in Portsmouth, the Blue Strawbery, to which we used to go in the 1970s. We were astonished by the way they served strawberries: with brown sugar and sour cream to dip them in!  Sour cream, not whipped cream! Unheard-of back then. We loved this (and the feeling of sophistication) and began having them this way at home.
I never made Strawberry-Rhubarb Pie because our rhubarb plants had gone by before local strawberries were available. But we enjoyed strawberries on ice cream and strawberries in salads with basil and red wine vinegar and . . .

On May 18th, Sandwich's senior citizen Wednesday lunch (nicknamed the Old Fogeys' Lunch) began again, after ending on March 11, 2020. I didn't go to the lunch on the 18th because the monthly Alzheimer's support group met that day, but this Wednesday I drove to the village's community center.
It was like a reunion—it was a reunion. There were eighteen of us, counting the organizers and helpers. The meeting room had been refreshed, the walls painted, the floor refinished, new blue-and-white-checked oilcloth tablecloths on the three tables (seven chairs at each), shiny new forks, knives, spoons.
As usual, the meal was buffet-style. This year we were each given a disposable glove to put on our serving hand. The menu: baked stuffed haddock, tartar sauce, mashed potatoes, peas, beets, coleslaw, rolls—and, for dessert, squares of yellow cake with cinnamon topping and STRAWBERRIES! I don't know if the strawberries were local or not and I didn't ask; dining again with these old (senior!) friends, I didn't care.
© 2022 by Ruth Doan MacDougall; all rights reserved

by Jen, E-Blast Editor
E-Blast editor Jennifer Davis-Kay, surrounded by some of her favorite books.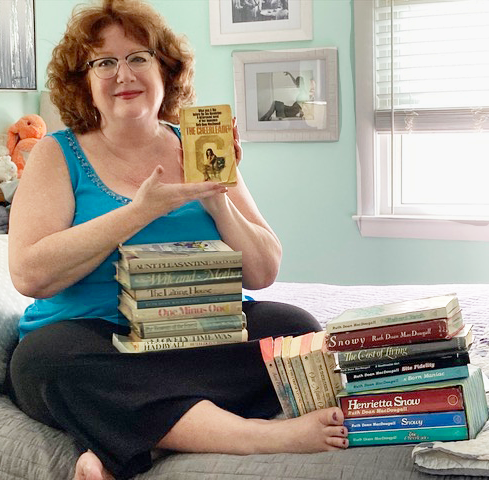 The E-Blast is your connection to news updates!
The E-Blast is an occasional publication of news and notes for Ruth's fans. Here you'll get background on your beloved characters, stories from Ruth on different inspirations for particular scenes, recipes from the books, a deeper look into Ruth's writing beyond The Snowy Series, and so much more!
SUBSCRIBE to the E-Blast!
Are you subscribed to the Ruth Doan MacDougall E-Blast? If not, e-mail the E-Blast editor and ask to be added to the mailing list.
E-Blast Issues Available:
If you missed any of the issues published thus far, you can find them here:
Issue #1: Fall 2020
Issue #2: December 2020
Issue #3: April 2021
Issue #4: February 2022

If you have a question for Ruth or an idea for a future story, don't hesitate to e-mail Jen.