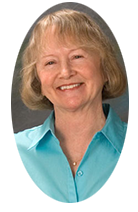 Ruth Doan MacDougall
CURRENT FACEBOOK COLUMNS:
April, 2019
INDEX OF EARLIER ENTRIES: 2018-March 2019
DOROTHY PARKER POEM
April 21, 2019

After rereading Ogden Nash's poems during this National Poetry Month, I decided to reread another old-favorite poet, Dorothy Parker. I have my parents' collection that I used to pore over, Not So Deep As a Well. I've mentioned before that during our—er—courtship I quoted to Don a Dorothy Parker poem; rereading the collection I came to it and laughed:
FIGHTING WORDS
Say my love is easy had,
     Say I'm bitten raw with pride,
Say I am too often sad—
     Still behold me at your side.
Say I'm neither brave nor young,
     Say I woo and coddle care,
Say the devil touched my tongue—
     Still you have my heart to wear.
But say my verses do not scan,
     And I get me another man!
Amused, we agreed that he'd only correct me on technical stuff, such as cars and carpentry.
  During the ensuing years I consulted him about much more, and when he read my manuscripts he mentioned problems he encountered. Of the "do not scan" type of problems I can only remember in detail the first one: In a short story I'd written for the Advanced Writing course we both were taking at Keene Teachers' College, I wrote that my distraught heroine "ran out into the night." Don gently told me that he hated when people ran out into the night in stories.
I immediately rewrote, and I think I can safely say nobody has run out into the night in anything I've written since.
I depended on him for help with all I wrote. As I work on Lazy Beds I'm still making mental notes to ask him this or that and I almost jot "ask Don!" in the margins of the manuscript.
© 2019 by Ruth Doan MacDougall; all rights reserved
NATIONAL LIBRARY WEEK, 2019
April 14, 2019

Last week was National Library Week, which reminded me how very lucky I've been with libraries, the Laconia library in my youth, the Sandwich library during most of my adult years.
On June 7, 2003, the Laconia library celebrated its 100th birthday with a party. Here's an excerpt from a piece about this I wrote at the time for "Ruth's Neighborhood." I titled it "Happy Birthday, Dear Library."
. . . A hundred years before this library was built, the first library was organized in Laconia, then called Meredith Bridge. So the party also commemorated two hundred years of interest in—and devotion to—books.
A bequest from a rich Laconia resident with the glorious name of Major Napoleon Bonaparte Gale financed the construction of the grand new library. It is an imposing edifice of red-pink granite and gray granite, with a tower and a turret, and nowadays the architecture makes me smile affectionately, but I still feel the thrilling awe that used to overwhelm me when my mother led me up the long series of steps to the massive doors whose knobs were too big for me to turn by myself and I entered this fairy-tale castle.
These emotions vied within me as Don and I approached the library for the party. A tent had been set up on the lawn . . . [we] kept on along the walk, past spiffed-up gardens, to the library pond at the back. This was a very special place in our childhoods. Don remembers taking a shortcut through it every day on his way from his home on River Street ("Snowy's House") to his elementary school, but this route didn't actually save him time because the pond was such a peaceful place to dawdle that he was apt to be late going to and fro. Indeed, in our years together the library pond has entered our language; when he's daydreaming or otherwise abstracted and not doing something he should be doing, we say he's "library-ponding."
 . . . When the welcoming ceremony ended, we went up the steps, through the formidable doors, into the stained-glass entry. . . Of the books on the shelves [in the children's room in my day] I remember most fondly a series of biographies, with orange covers, illustrated with black silhouettes—Julia Ward Howe and Jane Addams were favorites—and a series about twins from different lands, such as . . . the Scotch (not Scottish, I'm pretty sure) Twins, Jean and Jock. During the following years, there were the Rosamund du Jardins and Betty Cavannas and all. I was allowed into the stacks.
Here in 2003, in the reading room four long tables had been set up for four of us authors from Laconia or the surrounding area, with our books displayed . . . I met my youngest reader, age seven, who had started in on The Cheerleader even though her mother had told her she must wait until she's older. When this adorable, solemn little girl asked me to sign her copy, I said, "Do you want to be a cheerleader?" She put me in my place by replying, "No, a football player!"
Then a barbershop quartet began singing, "Happy Birthday, Dear Library."
© 2019 by Ruth Doan MacDougall; all rights reserved
NATIONAL POETRY MONTH, 2019
April 7, 2019

It's April, National Poetry Month, and I've been rereading two poets who are—er—strange bedfellows: Anne Bradstreet and Ogden Nash.
Recently when I was looking up some other poet in my Oxford Book of American Verse, I happened to see Anne Bradstreet's name leading the list in the table of contents. Her name usually does because she's our oldest American poet, so to speak; she was born (in England) in 1612 and died in 1672. I realized I hadn't reread her since college and resolved to read these selections. So now I have, starting with "The Prologue":
 . . . I am obnoxious to each carping tongue
Who says my hand a needle better fits,
A Poet's pen all scorn I should thus wrong,
For such despite they cast on Female wits:
If what I do prove well, it won't advance,
They'l say it's stoln, or else it was by chance . . .

Wow!
And recently in the Sandwich library I paused at the poetry bookcase, my eye caught by the Selected Poetry of Ogden Nash: 650 Rhymes, Lyrics, and Poems. As I've mentioned, I spent a lot of time in my youth poring over my parents' collections of his and Dorothy Parker's poems. So I took Ogden Nash's Selected Poetry home from the library and in my own poetry bookcase I located that very copy of my parents' Ogden Nash collection, The Face Is Familiar, published in 1940.  I settled down happily with both books and started with the Selected Poetry, published in 1995. It has a trenchant introduction by Archibald MacLeish and the poems are organized by subject, very handy. I went to the section titled "Parents—And Oh, Those Children!" and found one of the verses I remembered best, "Reflection on Babies":
A bit of talcum
Is always walcum.


In my high-school journal I switched that around to apply to the girls' locker room, where Cashmere Bouquet was always walcum (as I later noted in The Cheerleader).
For National Poetry Month, here's his April poem, "Always Marry an April Girl":

Praise the spells and bless the charms,
I found April in my arms.
April golden, April cloudy,
Gracious, cruel, tender, rowdy;
April soft in flowered languor,
April cold with sudden anger,
Ever changing, ever true—
I love April, I love you.


© 2019 by Ruth Doan MacDougall; all rights reserved


This page: CURRENT ENTRIES: April, 2019
National Poetry Month, 2019 (April 7)
National Library Week, 2019 (April 14)
Dorothy Parker Poem (April 21)
EARLIER ENTRIES INDEX
JANUARY-MARCH 2019
Squirrels (January 6)
Mills & Factories (January 13)
Kingfisher (January 19)
A Rockland Restaurant (January 27)
Home Ec (February 3)
Ice Fishing Remembered (February 10)
Our First Date (February 17)
Sandwiches Past and Present (February 23)
Snowy Owls & Chicadees (March 3)
Car Inspection (March 10)
Latest Reading & Listening (March 17)
Frost Heaves, Again (March 24)
Signs of Spring, 2019 (March 31)
ARCHIVES INDEX: 2018

The Old Country Store (March 25)
The Galloping Gourmet (April 1)
The Poor Man's Fertilizer (April 7)
Miniskirts and Bell-Bottoms (041518)
Henrietta Snow, Second Printing;;
Food & Drink Poems (April 22)
Recipe Box and Notebook (April 29)
The Green and Yellow Time, (May 6 )
The Weirs Drive-In Theater (May 13)
Going Up Brook, revisited (May 20)
Lilacs (May 27)
Seafood at the Seacoast? (June 3)
Springtime Sights (June 10)
2018 Motorcycle Week (June 17)
A Clean, Well-Lighted Place (June 24)
Off Season (July 1)
Fireworks (July 8)
Donald Hall(July 15)
Seen and Overheard (July 22)
Don's Health(July 29)
Telling Don (August 5)
Update--Don (August 12)
Donald K. MacDougall 1936-2018(August 19)
Summer Listening(August 26)
Dining Out Again(September 2)
Five & Ten (September 9)
Support System (September 16)
A Mini-Mini Reunion (September 23)
Keene Cuisine September 30)
A New Furnace (October 7)
Love and Ruin (October 14)
Sears (October 21)
Sistering (October 28)

Farewell to Our Magee (November 4)
A Mouse Milestone (November 11)
Bookmarks (November 18)
Thanksgiving 2018 (November 25)
Clothesline Collapse (December 2)
L.L. Bean Boots(December 9)
Latest Listening (December 16)
Copyright 2018 by Ruth Doan MacDougall
All rights reserved