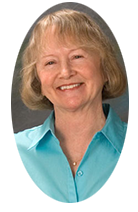 Ruth
Doan MacDougall
Books you'll read again and again!
The current Facebook column may be read below.


And now there are seven . . .
All are available in print, Apple Book (iBook), or Kindle formats.
Hover over the images to read more ▼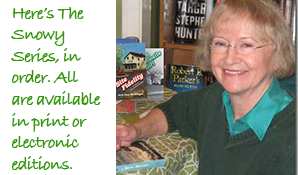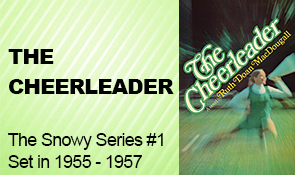 Scroll to read the entire description.
In THE CHEERLEADER you'll meet Snowy and her wide circle of friends, growing up in the post-World War II era of rigidly-defined roles for women. While Snowy yearns for the social success that a small-town high school can offer, her ambitions extend past that toward personal success that only a good college education can bring.

Here, in THE CHEERLEADER, you'll begin an adventure with engaging, enduring characters whose stories will continue, over subsequent titles in The Snowy Series, into contemporary times..
Searchingly honest, achingly real, THE CHEERLEADER recalls all the joy, excitement, and pain of crossing the bridge from childhood to young womanhood in the Fabulous Fifties, when sex was still a mystery and goals were clearly defined--perhaps for the last time.

DISCOVER MORE . . .
BOOKSHOP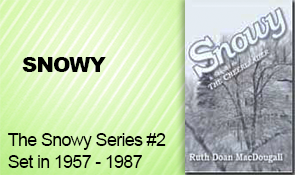 Scroll to read the entire description.
What happened next?

Ruth Doan MacDougall received countless letters from readers of The Cheerleader asking this question. She answered it by writing SNOWY, which chronicles Snowy's next thirty years.

SNOWY describes how she and her friends, who came of age in the security of the 1950s when roles were accepted and defined, develop in the next decades, coping with college, marriage, and careers, their experiences unique, yet universal.

"Readers should prepare to laugh out loud and cry in earnest as former high school cheerleader Henrietta Snow grows up in this delightful sequel to The Cheerleader ." ( —Library Journal)
DISCOVER MORE . . .
BOOKSHOP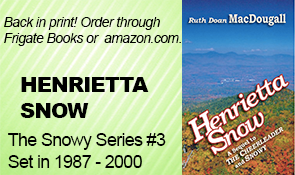 Scroll to read the entire description.
"Our generation," Snowy says in HENRIETTA SNOW, "is 'the disappeared.' We've dropped out of sight between our parents' generation and the baby boomers. Remember how we were called 'The Silent Generation'? Nobody knows about us."

But you will know!

Here are Snowy and Bev and Puddles, Tom, Dudley, the twins, and all the Gang from Gunthwaite High School, in the next stage of their lives, turning fifty and—eek!—sixty as they approach the millennium. How do they adjust to their limitations, deal with grief, and face the realization that this may be their last chance at love, success, and happiness?

With humor, for one thing. HENRIETTA SNOW is funny, honest, and indelible.


DISCOVER MORE . . .
BOOKSHOP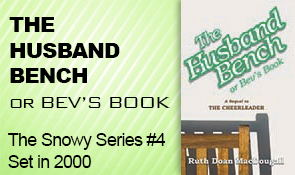 Scroll to read the entire description.
It's Bev turn!

Bev was tall, with short thick auburn hair. She looked older, more finished, than the other girls in their class. And she was green-eyed and beautiful, but she loved to make faces.

That was Beverly Colby at age fifteen, Snowy's best friend in The Cheerleader. Now, at sixty, her hair is white but she has remained a beauty and she still loves to make faces. And in THE HUSBAND BENCH she is starring in a book of her own.

The co-captain of the basketball team, Roger was tall and coolly jaunty, a senior and so suave.

That was Roger Lambert, Bev's boyfriend, whom eventually Bev married. Now, after a long separation, she and Roger have decided to renew their marriage vows. But as the euphoria of this decision fades, Bev must try to face the reality of this prospect while also trying to deal with her career decisions and, even more important, a surprise with a tremendous impact.

Bev's complex love life becomes even more intricate as THE HUSBAND BENCH explores love in various forms, from pure to complicated—selfless, selfish, serious, comic.

What is a Husband Bench?

"'The husband bench' refers to the ubiquitous seats all over malls and grocery stores where ostensibly patient husbands, with little else to take up their time, wait for their wives to finish shopping. Typically, MacDougall invests this with telling irony."

( From the foreword by Ann Norton Holbrook
DISCOVER MORE . . .
BOOKSHOP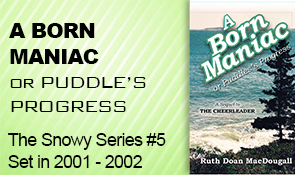 Scroll to read the entire description.
"I'm a Maine native, a born Maniac."
—Jean Pond Cram, aka Puddles

Puddles may have been born in Maine, but where are her real roots? She spent her teens in New Hampshire and her married life in South Carolina. Has she established roots in these other states? Or has she felt like a displaced person all these years?

The most uninhibited of The Cheerleader's three friends, intrepid Puddles is widowed now and still working at two jobs in South Carolina (nurse and cheerleading coach). Her settled life is suddenly shaken by the death of her mother, a complicated milestone for daughters. Concern about her father galvanizes her, and their trip to visit Maine relatives will become her progress to adventure, an island, a castle, hard decisions, and rebirth.

Puddles is "just as hilarious as when she chased Snowy around a 1950s Woolworth's with giant underwear." (—from the foreword by Ann Norton Holbrook)


DISCOVER MORE . . .
BOOKSHOP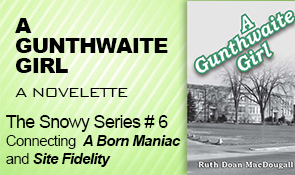 Scroll to read the entire description.
"The cabin fever of winter had become spring fever."

That's what poet Henrietta Snow, known as Snowy, is thinking in the spring of 2005. Woodcombe, New Hampshire, the New Hampshre town in which she has lived for twenty years, and Gunthwaite, her nearby hometown, seem to her like prisons. She is confined by her surroundings and memories, by family and financial worries, by her work at her general store. How can she escape?

When she is suddenly asked to lead a tour of the hometown places that have inspired her poems, she panics. She can't do it! But her best friend, Bev, lives in Gunthwaite and bracingly tells her she can, and their skeptical friend, Puddles, agrees to drive down from Maine to join them in a trial run.

So these Gunthwaite girls set forth together into the past on a day trip that will affect the way they look forward into their futures.

If you have not read the earlier titles in The Snowy Series (#1 - #5) A Gunthwaite Girl will serve as an introduction to the main characters so that you can more fully enjoy the sixth title, Site Fidelity.

DISCOVER MORE . . .
BOOKSHOP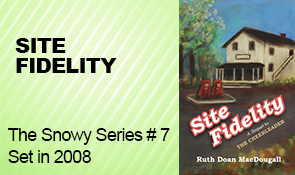 Scroll to read the entire selection.
In order to return, Snowy thought, you have to go away. But what if you want to stay away?

SITE FIDELITY is a contemporary novel centering on the importance of "place" in a turbulent, changing world. The title refers to the ornithological term for birds' instinctive migration back to their place of origin.

The year is 2008 and the Great Recession is looming, Barack Obama and Hillary Clinton are vying for the Democratic presidential nomination, and the winter is hard, especially on people who aren't so young as they used to be.

Twenty-three years ago, Henrietta Snow—known as Snowy—and her husband bought a general store near her hometown in the Lakes Region of New Hampshire. Ever since his death, she and her daughter, Ruhamah, have been running the store. They recently bought a second general store in a neighboring town, and now Ruhamah wants to acquire a third. Scared, Snowy wonders if Ruhamah wants to rule a general-store empire.

What Snowy wants is another site, a fresh start. She hankers for what she calls a Maine-style Bali Ha'i, an island she has visited with her friend Puddles, where the scenery is "the ever-changing ocean, not the motionless mountains."

Is this longing for change a part of aging? How can she leave the responsibilities that tie her down?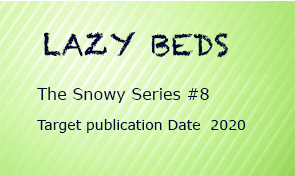 ---
---

FEATURES
Ruth's Neighborhood


RUTH'S NEIGHBORHOOD, a series of short articles and stories in which Ruth shared stories of life in her neighborhood, has been a website feature since 1998. The entries from 2011 through 2017, when Ruth's Facebook entries replaced the Ruth's Neighborhood entries, are still available HERE
Ruth's Facebook Column
AUGUST 18 2019
SAWYER'S DAIRY BAR

You may read the column below; scroll as needed. Or, the link to read the entire article on one page is HERE. You will find previous columns at the same link.
SAWYER'S DAIRY BAR
Don died a year ago last Tuesday. Penny, my sister, was here during the week, and on Wednesday we went to Gilford to have lunch at Sawyer's Dairy Bar with a dear friend. I've written before about working at Sawyer's when it was simply a dairy bar, not a restaurant as well; here's an excerpt from a piece I wrote for "Ruth's Neighborhood" in August 2013:
In The Cheerleader, Snowy is asked, "How was your summer?" and she replies, "Ice-creamy."
That's the way I remember the summer of 1955, when my best friend, Sally, and I worked at Sawyer's Dairy Bar, across pastures from the Sawyer farmhouse in Gilford. It was the summer between our sophomore and junior years in high school. We were sixteen, and this was our first job, besides babysitting.
Sally lived near Sawyer's, on Lake Winnipesaukee. I lived farther away in Laconia, about a twenty-minute drive, and although I had got my driver's license, my family owned only one car (typical in those days) and thus my mother or father had to drive me to work and pick me up after. So I stayed over at Sally's even more than usual that summer, and we would walk to work together down the narrow road past cottages and Gilford Beach, in our white nylon uniforms, white nylon aprons, white socks and sneakers.
In the evenings after closing time, when we walked home to Sally's our white uniforms would be smeared with ice cream, hot fudge, hot butterscotch. Across the road from Sally's house was a path that was a right-of-way to the lake. On occasion we stopped and went swimming there, stripping to our underwear or skinny-dipping or walking straight into the water in our disgusting uniforms.
Don too spent the summer of 1955 involved with dairy products. He worked for Horne's Dairy in Winnisquam, near Laconia. For him, the summer of 1955 was his summer between high school and college. Horne's had a dairy bar, very small, but Don didn't work there; he drove a pickup truck stacked with cases of jangling milk bottles to deliver to customers on a summer-cottages route around Lake Winnisquam. Also cream, buttermilk, and cottage cheese.
On Saturday nights he'd pick me up after work, laugh at my bedraggled state, and drive me the short distance to Sally's, where we'd sit in his car in the driveway and discuss the dairy business. And get up to other things, of course. I do remember that we actually did discuss the newfangled homogenized milk as opposed to milk with the cream on top you had to shake in or pour off into a creamer.
Much as I loved staying at Sally's, the commuting problem made me start thinking of working nearer home the next summer. Sally decided she would like a change, and thus we got jobs waitressing at a Main Street restaurant in Laconia, Keller's, which later became the inspiration for Sweetland in The Cheerleader.

© 2019 by Ruth Doan MacDougall; all rights reserved
Other Titles by Ruth Doan MacDougall
---