The most recent issue:
Issue #6: August 26, 2023
It's summertime, summertime, sum-sum-summertime . . . !
If you'd like to subscribe, send an e-mail  request to the E-Blast Subscription Desk and add the E-Blast address to your "Safe Mail" list.

The E-Blast is an occasional publication of news and notes for Ruth's fans. Previous issues are still available:.
Issue #1: Fall 2020
Issue #2: December 2020
Issue #3: April 2021 
Issue #4: February 2022
Issue $5: May 2022


Meet the E-Blast creator and editor, Jennifer Davis-Kay, HERE and subscribe by sending an e-mail to the E-Blast Subscription Desk.
Welcome!
Have you read LAZY BEDS, the latest title in Ruth Doan MacDougall's The Snowy Series? It's available in both print and ebook formats. You may place orders through the Frigate Bookshop, where you'll find several purchasing options for both the paperback and e-book versions. All titles in The Snowy Series are available.


Ruth usually updates her Facebook page on Sunday mornings. Join the conversation! (The Facebook entries are all reprinted HERE as well.)
The Snowy Series
Click an image to read more.
Reader Features

Since 2018 Ruth has continued her "Ruth's Neighborhood" entries on her Facebook page. Ruth updates this column each week, usually on Sunday mornings, and fans are welcome to join the ongoing conversation. Below is this week's entry.
This entry and the directory of all previous entries, are archived HERE.
THE SANDWICH BOARD
December3, 2023
To read below you may need to scroll.
When Wanda and I started off to do errands in Center Harbor and Meredith on Wednesday morning, I predicted, "I bet there won't be any snow in those tropics," and she agreed. As Don used to say, "Sandwich is a snow pocket."
The previous week's six inches of snow had stayed here, so the scenery was whiteness on lawns, fields, into the woods. Lovely. While the sun was making up its mind about shining, the lakes were gray, the mountains blue-gray. More loveliness.
Sure enough, as we left Sandwich the snow disappeared and the ground was brown.
We did our loop of errands, and when we were headed home the ground changed back to snow almost at the Sandwich town line. In the vast view from Wentworth Hill, we saw snow on the summit of Mount Chocorua.
And we said, as we usually do when we reach Sandwich, "Aren't we lucky to live here."
Folks are apt to say this on the Sandwich Board. Some of the posts on various subjects I found interesting in November are:
November 16. Coyote. "I was fortunate to be able to watch this coyote hunting (voles?) in North Sandwich yesterday—an amazing animal." Photo.

November 17. The Bearcamp Center. "Butterfried gnocchi is the star of this dish with butternut, kale, artichoke hearts, lemon, and garlic sharing the stage. Tossed with Parm! Your favorite pasta you didn't know you love is calling you from The Bearcamp Center. Enjoy this meal by donation, paying what you're able or what you feel the food is worth to our community."

November 22. "Sledding? Almost? Antique Sled for Sale." Photos. "Antique Sled. Steers well. $50." It reminded me of the sled my sister and I had!

November 24. "Available: 1000 pounds of non-gmo hog feed. We have 20 bags of non-gmo hog grower pellets from Green Mountain Feeds left over at the end of our season. This feed is a combination of organic and non-gmo grains. Stored this summer in a dry barn; bags are in great shape with no rips or stains. Asking $20/bag. $25.90 retail."

November 27. "Dog on the loose. When I was walking my dog today, we were joined by a black doodle of some sort. The pup wouldn't let me look at him/her ID and when I tried to lure with canned tripe (yes! I keep canned tripe in my car for this reason. LOL) into the car it was a no go. I am concerned because it is hunting season. Seemed to know the hood though." Photo.
Reply. November 28. "Photo of dog on the loose. That's Charlie, Bob M.'s dog. He's probably home by now."

November 28. "Moose in my driveway! What a surprise this morning! Nice, young, very healthy-looking moose!"
This brought back memories of the various moose who have visited us, especially the one who swam/waded across the beaver pond and the one who stopped and stared in disbelief at the obstruction in his usual route, the shed that Don was building.
Aren't we lucky!
© 2023 by Ruth Doan MacDougall; all rights reserved.

by Jen, E-Blast Editor
E-Blast editor Jennifer Davis-Kay, surrounded by some of her favorite books.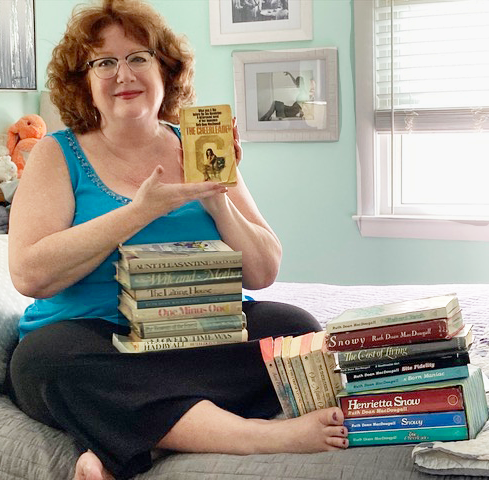 The E-Blast is your connection to news updates!
The E-Blast is an occasional publication of news and notes for Ruth's fans. Here you'll get background on your beloved characters, stories from Ruth on different inspirations for particular scenes, recipes from the books, a deeper look into Ruth's writing beyond The Snowy Series, and so much more!
SUBSCRIBE to the E-Blast!
Are you subscribed to the Ruth Doan MacDougall E-Blast? If not, e-mail the E-Blast editor and ask to be added to the mailing list.
E-Blast Issues Available:
If you missed any of the issues published thus far, you can find them here:
Issue #1: Fall 2020
Issue #2: December 2020
Issue #3: April 2021 
Issue #4: February 2022
Issue $5: May 2022
Issue #6: August 26, 2023

If you have a question for Ruth or an idea for a future story, don't hesitate to e-mail Jen.
Other Books by Ruth Doan MacDougall
Facebook and the E-Blast Newsletter
News of interest to readers is primarily shared here on the website and through Ruth's Facebook column, usually updated weekly, on Sunday morning. Ruth's current entry is also posted here; earlier entries (including "Ruth's Neighborhood" from this website's incarnation) are linked from the menu list on that same page.

The occasional E-Blast newsletter is emailed to everyone on Ruth's mailing list. Subscribe to the newsletter here.
Contact Ruth Doan MacDougall through Frigate Books
Privacy Policy
This website does not collect any personally identifying information from its users. If users click through to the Bookshop at Frigate Books, information is only collected for purchases, through PayPal or the user's credit card source. That financial information is available only to PayPal through its normal payment process. Frigate Books will have access to the customer's mailing and e-mail addresses for order fulfillment, and that information is not shared with anyone else.
Information collected when users request to be placed on the Newsletter list is used only for that purpose and is shared with no one other than Frigate Books Customer Service.
User information collected through the website's host provider is limited to non-identifying information, relating to pages visited, technical issues encountered, etc.