The most recent issue:
Issue #6: August 26, 2023
It's summertime, summertime, sum-sum-summertime . . . !
If you'd like to subscribe, send an e-mail  request to the E-Blast Subscription Desk and add the E-Blast address to your "Safe Mail" list.

The E-Blast is an occasional publication of news and notes for Ruth's fans. Previous issues are still available:.
Issue #1: Fall 2020
Issue #2: December 2020
Issue #3: April 2021 
Issue #4: February 2022
Issue $5: May 2022


Meet the E-Blast creator and editor, Jennifer Davis-Kay, HERE and subscribe by sending an e-mail to the E-Blast Subscription Desk.
Welcome!
Have you read LAZY BEDS, the latest title in Ruth Doan MacDougall's The Snowy Series? It's available in both print and ebook formats. You may place orders through the Frigate Bookshop, where you'll find several purchasing options for both the paperback and e-book versions. All titles in The Snowy Series are available.


Ruth usually updates her Facebook page on Sunday mornings. Join the conversation! (The Facebook entries are all reprinted HERE as well.)
The Snowy Series
Click an image to read more.
Reader Features

Since 2018 Ruth has continued her "Ruth's Neighborhood" entries on her Facebook page. Ruth updates this column each week, usually on Sunday mornings, and fans are welcome to join the ongoing conversation. Below is this week's entry.
This entry and the directory of all previous entries, are archived HERE.
NATIONAL POTATO MONTH
September 17, 2023
To read below you may need to scroll.
Last week I learned that September is National Potato Month, and I thought about what a staple the spud has been, in history—the Irish Potato Famine—and in my personal experience, i.e., my mother's weekly menu.
Baked potatoes were part of almost every supper. Ernie, my mother, baked them in a little stovetop oven that sat on one of the stove's gas rings. Penny and I agreed that the best part of a baked potato was the skin, which, after we'd scooped out the interior, we ate first, packed with butter—well, margarine.
Sometimes Ernie made the more labor-intensive mashed potatoes, peeling, cutting up, boiling, and putting them through a ricer (she didn't actually mash her mashed potatoes). If there were any leftovers, the next day she patted them into cakes and fried them in the cast-iron skillet. Penny loved these and always remembered how, whenever she saw that Ernie was making them, she hoped fervently that they WOULD be plain potato cakes and not mixed with salt cod for codfish cakes. Penny did not like fish. I of course liked fish and loved codfish cakes so I hoped the opposite.
Scalloped potatoes were a welcome variation, usually served with ham.
In THE CHEERLEADER I wrote about Snowy's sixteenth birthday dinner: "roast beef and gravy, and Snowy's favorite potatoes, peeled and cooked with the roast." No surprise, these were my favorite potatoes, too! Many years later, when Don and I were visiting Ernie and Dan (my father), Dan made a chicken version of those favorite potatoes. (Dan was doing all the cooking by then because of Ernie's arthritis.) I jotted down his recipe:
Dan's Baked Chicken and Potatoes
Cut chicken breasts in half and trim off extra fat.
Rub on some butter and lemon juice.
Place chicken skin side up in pan.
Peel potatoes and place in pan.
Bake at 300 degrees for 1½ hours or 350 for 1 hour.
To return briefly to Ernie's menus, I was very happy whenever she served rice as the staple; it was a break from potatoes.
When Don and I were planting our first garden in Lisbon, NH, in the backyard of the house we were renting, we planted some potatoes by chopping up a few we'd bought at the grocery store. A success! However, in our second garden, in Farmington, NH, I tried a method of planting I'd read about, not putting the seed potatoes in the earth but on top, covered with hay mulch. Alas, I eventually lifted up some hay to see what was happening and saw little pink squiggly creatures. Baby mice!
While getting Dan's recipe card out of the Potatoes section in my recipe file, I lingered over recipes for potato dishes I've made, such as Colcannon, which Don and I discovered at the Scottish Lion restaurant in North Conway, and another potato-cabbage combo, Bubble and Squeak. And then there were ones I somehow never did make, such as Baked Sliced Potatoes with Mozzarella and Parmesan from MARCELLA'S ITALIAN KITCHEN cookbook and Julia Child's Gratin of Potatoes a la Savoyarde.
I can't resist giving the Bubble and Squeak recipe here because I enjoy the name, which apparently comes from the noise the ingredients make cooking. The recipe is from THE WIND IN THE WILLOWS COOKBOOK.
Bubble and Squeak
1 ½ cup mashed potatoes
1 ½ cup chopped cooked cabbage
4 T. butter
Salt and pepper
Mix the mashed potatoes and chopped cooked cabbage in a bowl.
Melt half the butter and stir into the mixture.
Season.
Melt remaining butter in skillet; when hot, pile in potato and cabbage and spread evenly, flattening with spatula.
Cook over low heat for about 25 minutes, until nicely browned underneath.
Turn out onto a flat dish to serve.
Serve with cold meat and tossed green salad.
Serves 4—5.
Happy National Potato Month!
© 2023 by Ruth Doan MacDougall; all rights reserved.

by Jen, E-Blast Editor
E-Blast editor Jennifer Davis-Kay, surrounded by some of her favorite books.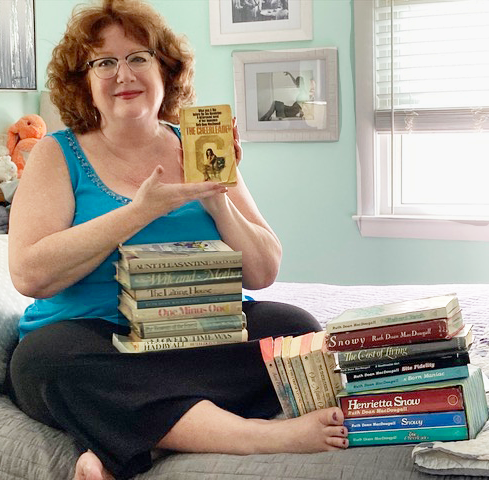 The E-Blast is your connection to news updates!
The E-Blast is an occasional publication of news and notes for Ruth's fans. Here you'll get background on your beloved characters, stories from Ruth on different inspirations for particular scenes, recipes from the books, a deeper look into Ruth's writing beyond The Snowy Series, and so much more!
SUBSCRIBE to the E-Blast!
Are you subscribed to the Ruth Doan MacDougall E-Blast? If not, e-mail the E-Blast editor and ask to be added to the mailing list.
E-Blast Issues Available:
If you missed any of the issues published thus far, you can find them here:
Issue #1: Fall 2020
Issue #2: December 2020
Issue #3: April 2021 
Issue #4: February 2022
Issue $5: May 2022
Issue #6: August 26, 2023

If you have a question for Ruth or an idea for a future story, don't hesitate to e-mail Jen.
Other Books by Ruth Doan MacDougall
Facebook and the E-Blast Newsletter
News of interest to readers is primarily shared here on the website and through Ruth's Facebook column, usually updated weekly, on Sunday morning. Ruth's current entry is also posted here; earlier entries (including "Ruth's Neighborhood" from this website's incarnation) are linked from the menu list on that same page.

The occasional E-Blast newsletter is emailed to everyone on Ruth's mailing list. Subscribe to the newsletter here.
Contact Ruth Doan MacDougall through Frigate Books
Privacy Policy
This website does not collect any personally identifying information from its users. If users click through to the Bookshop at Frigate Books, information is only collected for purchases, through PayPal or the user's credit card source. That financial information is available only to PayPal through its normal payment process. Frigate Books will have access to the customer's mailing and e-mail addresses for order fulfillment, and that information is not shared with anyone else.
Information collected when users request to be placed on the Newsletter list is used only for that purpose and is shared with no one other than Frigate Books Customer Service.
User information collected through the website's host provider is limited to non-identifying information, relating to pages visited, technical issues encountered, etc.