The most recent issue:
May 15, 2022 :
"Happy Birthday, Tom Forbes!"
If you've like to subscribe, send an e-mail  request to the E-Blast Subscription Desk and add the E-Blast address to your "Safe Mail" list.

The E-Blast is an occasional publication of news and notes for Ruth's fans.
Issue #1: Fall 2020
Issue #2: December 2020
Issue #3: April 2021 
Issue #4: February 2022


Meet the E-Blast creator and editor, Jennifer Davis-Kay, HERE and subscribe by sending an e-mail to the E-Blast Subscription Desk.
Welcome!
Have you read LAZY BEDS, the newest title in Ruth Doan MacDougall's Snowy Series? It's available in both print and ebook formats. You may place orders through the Frigate Bookshop, where you'll find several purchasing options for both thepaperback and e-book versions. All titles in The Snowy Series are available.


Ruth usually updates her Facebook page on Sunday mornings. Join the conversation! (The Facebook entries are all reprinted HERE as well.)
The Snowy Series
Click an image to read more.
Reader Features

Since 2018 Ruth has continued her "Ruth's Neighborhood" entries on her Facebook page. Ruth updates this column each week, usually on Sunday mornings, and fans are welcome to join the ongoing conversation. Below is this week's entry.
This entry and the directory of all previous entries, are archived HERE.
THE CHEERLEADER's 50th Anniversary
March 19, 2023
To read below you may need to scroll.

This year is the fiftieth anniversary of the publication of The Cheerleader. Like all such numbers, it's hard to believe—FIFTY years???!!! I've found myself time-traveling back to the 1970s, when I sat down to write about the 1950s.
As I've described before, the suggestion came from my editor at Putnam's, Harvey Ginsberg. In my previous novel, One Minus One, the narrator delved into her high-school diaries and I quoted from them, and I think this gave him the idea. He also sensed that there was nostalgia for the quieter Fifties after the Swinging Sixties. While I was working on the final draft of One Minus One, Harvey invited Don and me to visit him, and when we chatted in his Manhattan apartment before we went out to dinner Harvey asked what I had in mind for my next novel. I replied that I hadn't thought further than this final draft. He said, "Why don't you write about high school in the 1950s?"
I immediately knew he was right and I laughed and said, "Yes!"
After I finished One Minus One and before I began the new novel (working title The Silent Generation), I reread my high-school diaries. I intended this to be research, such as getting slang right ("she went ape," etc.), but during my reading I became immersed in the intensity of those years; the reading was excruciating, poignant, and hilarious. (I do enjoy Arthur Koestler's observation: "Adolescence is a kind of emotional seasickness. Both are funny, but only in retrospect.")
On the back pages of my diaries I had kept a month-by-month list of hit songs. This was a great help, but I marveled at my young self for doing it, for having some instinct or need to document this piece of history.
Then I asked Penny and friends in my Class of 1957 what they remembered about the clothes, food, cheers, and such.
From 1968 to 1971 Don and I were living in Dover, New Hampshire, and here I started writing the book. The story begins on March 4, 1955. Later Penny asked me if I'd used that date because March fourth was the birthday of Annie Laurie, our Sheltie. No, I'd used it because I wanted a Friday in early March, but the coincidence of Laurie's birthday struck me as a good sign, good luck.
The first sentence, "The dance had begun," was inspired by Anthony Powell's Dance to the Music of Time novels, several of which I'd read and liked.
We were spending our third year in an upstairs apartment in a big Victorian house and were ready to settle down, to buy house at last. We did, a prefab log cabin on twenty-five acres (including a old apple orchard and a bog) in Farmington, NH. Here I continued work on the book. I'd set it in a fictional version of our hometown, Laconia, but for Bev's home I used our Farmington setting; I replaced the log cabin with a farmhouse and barn and gave the place a distant lake view.
In this Farmington house, one day our living-room furniture got knocked around after I'd asked Don how a center could make a touchdown, so that Tom could in the book. Using the rug as a football field, Don (Laconia High School center) and Penny's husband (a few years later an LHS quarterback) energetically figured out an answer to my question, while Penny and I laughed and laughed.
Fifty years ago!
©2023 by Ruth Doan MacDougall; all rights reserved.

by Jen, E-Blast Editor
E-Blast editor Jennifer Davis-Kay, surrounded by some of her favorite books.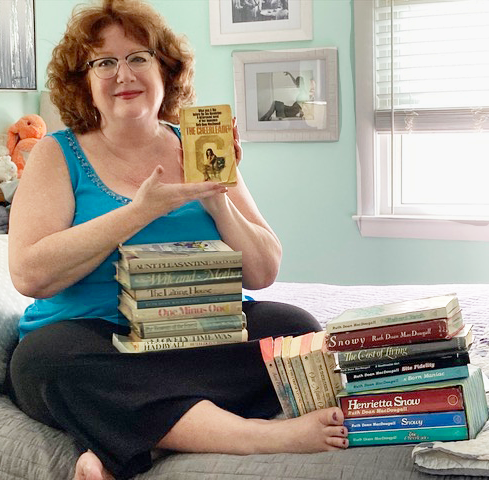 The E-Blast is your connection to news updates!
The E-Blast is an occasional publication of news and notes for Ruth's fans. Here you'll get background on your beloved characters, stories from Ruth on different inspirations for particular scenes, recipes from the books, a deeper look into Ruth's writing beyond The Snowy Series, and so much more!
SUBSCRIBE to the E-Blast!
Are you subscribed to the Ruth Doan MacDougall E-Blast? If not, e-mail the E-Blast editor and ask to be added to the mailing list.
E-Blast Issues Available:
If you missed any of the issues published thus far, you can find them here:
Issue #1: Fall 2020
Issue #2: December 2020
Issue #3: April 2021
Issue #4: February 2022

If you have a question for Ruth or an idea for a future story, don't hesitate to e-mail Jen.
Other Books by Ruth Doan MacDougall
Facebook and the E-Blast Newsletter
News of interest to readers is primarily shared here on the website and through Ruth's Facebook column, usually updated weekly, on Sunday morning. Ruth's current entry is also posted here; earlier entries (including "Ruth's Neighborhood" from this website's incarnation) are linked from the menu list on that same page.

The occasional E-Blast newsletter is emailed to everyone on Ruth's mailing list. You can view the first three issues here, here, and here and subscribe to the newsletter here.
Contact Ruth Doan MacDougall through Frigate Books
Privacy Policy
This website does not collect any personally identifying information from its users. If users click through to the Bookshop at Frigate Books, information is only collected for purchases, through PayPal or the user's credit card source. That financial information is available only to PayPal through its normal payment process. Frigate Books will have access to the customer's mailing and e-mail addresses for order fulfillment, and that information is not shared with anyone else.
Information collected when users request to be placed on the Newsletter list is used only for that purpose and is shared with no one other than Frigate Books Customer Service.
User information collected through the website's host provider is limited to non-identifying information, relating to pages visited, technical issues encountered, etc.