Ruth Doan MacDougall: "Ruth's Neighborhood"
Facebook Columns January - March, 2023
AUDIOBOOKS
March 26, 2023
Penny and I often asked each other, "How did we ever live without audiobooks?" and rejoiced that they now exist. We both haddiscovered that they could be beneficial bedtime listening, as the bedtime stories our parents read to us had been, even if nowadays the subject we chose most often was murder. And we both learned that a British accent was best because it put us to sleep fast!
My recent listening during this difficult time has happened to be British. In the audiobooks section of our library I'd noticed THE THURSDAY MURDER CLUB by Richard Osman. At first I was irritated by the author's choice of the title, so similar to Agatha Christie's TUESDAY CLUB MURDERS. But the CD set's description intrigued me, so I took the audiobook out. Then when I started listening I heard that it was written in the present tense, a style I still find jarring; it always awakens me from what John Gardner called "the fictional dream" into which writers try to lull us.
However, I persevered, and soon I was very interested in and amused by Elizabeth, Joyce, Ibrahim, and Ron, septuagenarians (youngsters!) residing in Cooper's Chase, a retirement village in Kent.
And when the book ended, I was quite fond of them—especially Joyce—and eager to continue my acquaintance, so I took out the next book in the series, THE MAN WHO DIED TWICE. I'd Googled Richard Osman; Wikipedia informed me that he is an "English presenter, producer, novelist, and comedian."
In the February 27th issue of PUBLISHERS WEEKLY I'd read a review of another fictional club: THE LONELY HEARTS BOOK CLUB by Lucy Gilmore, to be published by Sourcebooks Casablanca in April. It told me, "Gilmore (I HATE YOU MORE) knocks it out of the park with this passionate love letter to books, showing literature's power to offer solace, understanding, and human connection. When frail but formidable former literature professor Arthur fails to show up to the library as usual, librarian Sloane . . . guesses that he's sick and refusing help. Sloane pushes her way into Arthur's home, and his neighbor Maisey, part-time nurse Mateo, and grandson Greg soon follow . . . Drawn together by Arthur's illness, they form an unlikely book club, bonding over THE REMAINS OF THE DAY, THE JOY LUCK CLUB, and ANNE OF GREEN GABLES . . . Gilmore's complex characters jump off the page, and readers should have their handkerchiefs ready for some cathartic tears. This is a treat."
This club and Richard Osman's club reminded me of the club I formed in elementary school with two friends, Carol and one of the two other Ruths in my class. I called it the Three Musketeers Club. I'd read the book and at Laconia's Colonial Theater we'd seen the movie starring Gene Kelly and Lana Turner. I assigned the musketeers' names: Carol was D'Artagnon, Ruthie was Porthos, and I was Aramis. I can't remember what our club did, but I do clearly remember my little printing press on which I printed our newsletter, "The Quill and Scroll"!
© 2023 by Ruth Doan MacDougall; all rights reserved.
   THE CHEERLEADER'S 50th ANNIVERSARY
March 19, 2023

This year is the fiftieth anniversary of the publication of The Cheerleader. Like all such numbers, it's hard to believe—FIFTY years???!!! I've found myself time-traveling back to the 1970s, when I sat down to write about the 1950s.
As I've described before, the suggestion came from my editor at Putnam's, Harvey Ginsberg. In my previous novel, One Minus One, the narrator delved into her high-school diaries and I quoted from them, and I think this gave him the idea. He also sensed that there was nostalgia for the quieter Fifties after the Swinging Sixties. While I was working on the final draft of One Minus One, Harvey invited Don and me to visit him, and when we chatted in his Manhattan apartment before we went out to dinner Harvey asked what I had in mind for my next novel. I replied that I hadn't thought further than this final draft. He said, "Why don't you write about high school in the 1950s?"
I immediately knew he was right and I laughed and said, "Yes!"
After I finished One Minus One and before I began the new novel (working title The Silent Generation), I reread my high-school diaries. I intended this to be research, such as getting slang right ("she went ape," etc.), but during my reading I became immersed in the intensity of those years; the reading was excruciating, poignant, and hilarious. (I do enjoy Arthur Koestler's observation: "Adolescence is a kind of emotional seasickness. Both are funny, but only in retrospect.")
On the back pages of my diaries I had kept a month-by-month list of hit songs. This was a great help, but I marveled at my young self for doing it, for having some instinct or need to document this piece of history.
Then I asked Penny and friends in my Class of 1957 what they remembered about the clothes, food, cheers, and such.
From 1968 to 1971 Don and I were living in Dover, New Hampshire, and here I started writing the book. The story begins on March 4, 1955. Later Penny asked me if I'd used that date because March fourth was the birthday of Annie Laurie, our Sheltie. No, I'd used it because I wanted a Friday in early March, but the coincidence of Laurie's birthday struck me as a good sign, good luck.
The first sentence, "The dance had begun," was inspired by Anthony Powell's Dance to the Music of Time novels, several of which I'd read and liked.
We were spending our third year in an upstairs apartment in a big Victorian house and were ready to settle down, to buy house at last. We did, a prefab log cabin on twenty-five acres (including a old apple orchard and a bog) in Farmington, NH. Here I continued work on the book. I'd set it in a fictional version of our hometown, Laconia, but for Bev's home I used our Farmington setting; I replaced the log cabin with a farmhouse and barn and gave the place a distant lake view.
In this Farmington house, one day our living-room furniture got knocked around after I'd asked Don how a center could make a touchdown, so that Tom could in the book. Using the rug as a football field, Don (Laconia High School center) and Penny's husband (a few years later an LHS quarterback) energetically figured out an answer to my question, while Penny and I laughed and laughed.
Fifty years ago!
© 2023 by Ruth Doan MacDougall; all rights reserved.
   THE LOT, REVISITED
March 12, 2023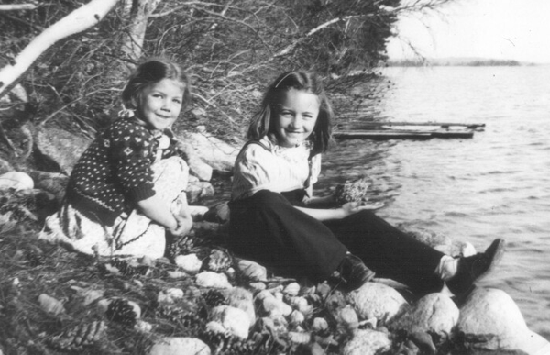 My dear friend Marney has emailed Thane and me a childhood photo of Penny and me taken by our mother or father at our special place on Lake Winnipesaukee. I'd sent the snapshot to Marney in 2011 by regular mail to accompany "The Lot," a piece I'd written for the "Ruth's Neighborhood" section of our website.  As Marney explained to Thane, "Back in 'those ancient days,' Ruth would send photos, George [Marney's husband] would scan them into digital form, and I'd send the original back to Ruth." (A larger version of the photo is reprinted at the end of this essay.)
I'm very touched and comforted by the reminder of this place. I wrote about it again, quoting the "Neighborhood" piece, for a post on July 7, 2019, but without a photo.
Here is that earlier post:
I spent the Fourth of July with Penny (my sister) and Thane (my niece) at the cabin they'd rented in a cabin colony on a nearby lake. The bliss of the morning lake reminded Penny and me of waking up to the lake at what our family called "the Lot." I wrote about the Lot in "Ruth's Neighborhood" in 2011, and here's an excerpt:
Back in the golden age of magazines, a great many short stories were published. And back then Cosmopolitan magazine was in its pre-Helen-Gurley-Brown heyday, its pages filled with fiction—stories, serials, and each month a "novelette." My father's story "The Mink" was bought by Cosmopolitan as a novelette and retitled "The Crystal Years." (Dan, my father, later expanded it into a full-length novel and kept the Cosmopolitan title.) The novelette was published in the April 1948 issue. I was nine then; Penny would turn seven in July.
The sale was very exciting. Besides success, it meant money. And with this money our parents bought a "lot" in a chunk of lakefront woods that had recently been divided up for development. We were the first customers. So we felt as if the whole woods and lake were ours.
On hot summer weekdays we sometimes made the trip from Laconia to Moultonborough after Dan finished his day's work at a Laconia factory, to have a swim and the picnic supper Ernie (our mother) had packed—deviled-ham sandwiches, olive-butter sandwiches. But usually we went on weekends and camped out.
Dan pitched a big tent that he had designed and Ernie had sewn. In it we spent the nights. Penny and I can still smell the inside of that tent, the pine boughs Dan cut for us to sleep on, the wool smell of our itchy blankets, the tent's canvas smell mingled with the faint reek of whatever stuff Dan had used to waterproof it. Penny became the subject of a family tale about how she was so little that one night in her sleep she rolled out under the edge of the tent, where Dan discovered her the next morning, still sound asleep.
Dan was the cook on these weekends, using his Coleman stove, and Penny and I remember the breakfast smell of bacon.
A big project was his building a wharf. It became a sort of porch to the tent in the woods, so in addition to swimming from it we sat there, and when friends and relatives visited, it was the gathering spot.
Our boat-building uncle built the family a rowboat, from which Penny and I caught many a sunfish. Because sunfish were considered not worth eating, back into the lake they went. Dan caught the fish we dined on.
It wasn't simply summer days. We went to the Lot in the spring as soon as the snow melted enough and as late into the fall as snow allowed. Penny remembers once snowshoeing in with Dan.
Inevitably, somebody from Massachusetts bought the lot beside us and began building a snazzy cottage. Our idyll was spoiled. So eventually Dan and Ernie sold the Lot.
That development now is packed with cottages and resembles nothing I remember from childhood. But needless to say, though say it I will, the real place exists in memories.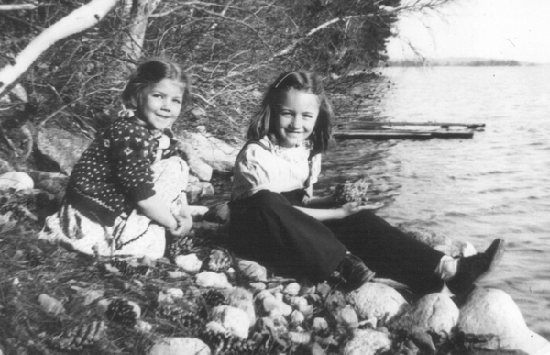 © 2023 by Ruth Doan MacDougall; all rights reserved.
   PENNY
March 5, 2023
Penny, my sister, has died suddenly.
On a bookcase in my living room is a framed snapshot taken by our father in July 1941 at his and our mother's chicken farm. The sunny scene shows a shingled side of the farmhouse, a striped awning over a window, and a striped sun umbrella partly shading our mother, who is hovering beside an Adirondack chair, her hands steadying its contents. I'm the two-year-old sitting there "holding" baby Penelope swaddled in baby blankets.
Years later, whenever our mother happened to glance at this photo she would say to me, "You look so proud, being a big sister."
And I was.
Throughout my house are other photos of the Doan sisters, growing up. In the kitchen are several. On our mother's little desk that I use for household paperwork, Penny and I (ages maybe eight and ten) are standing beside the Franconia Notch road with the famous Old Man of the Mountain's profile high above us. On the refrigerator, we're sitting on the beach in Rye, New Hampshire (ages maybe four and six); I'm gazing dreamily out to sea, but Penny is squealing with delight at the sight of our mother or father snapping the picture.
Penny enjoyed making faces for the camera and continued to do so. This is especially evident on the side of the fridge, in the big blow-up of a photo she'd taken of us on a trail up Red Hill, a small mountain near my home, circa 1992. Along the trail we stopped, she fiddled with her camera and arranged it on a log—and then she dashed back to stand beside me, making a wide-eyed exaggeratedly surprised face.
Also on the fridge is another photo of us posing for her camera. It was taken during our trip to the Cotswolds in 1990, and we're in the little backyard of our "self-catering cottage." Penny has done her dash back to stand beside me and we're laughing helplessly.
Penny was a landscape designer. Amongst the other photos throughout the house, one of my favorites is the photo I took during that trip on the day we visited the gardens at Hidcote. Penny was walking ahead of me in the green shadows of an allee. I called to her and she turned to me, smiling. She was in her element and happy, so happy.
Here are two recent photos. One was taken by Hamish, her grandson, at her 81st birthday party last July on my porch. He lives in London, and he and Thane, Penny's daughter, made English tea sandwiches and a Swiss roll. Penny is looking at him, and I see a gleam in her eyes that suggests she is refraining from making a face and is thinking of an affectionate wisecrack for her grandson.
The other photo is of Penny, Thane, and Hamish at Penny's beloved Maine ocean, on Pemaquid Beach this New Year's.
I am indeed very proud to be Penny's big sister.
The photos:
On the porch: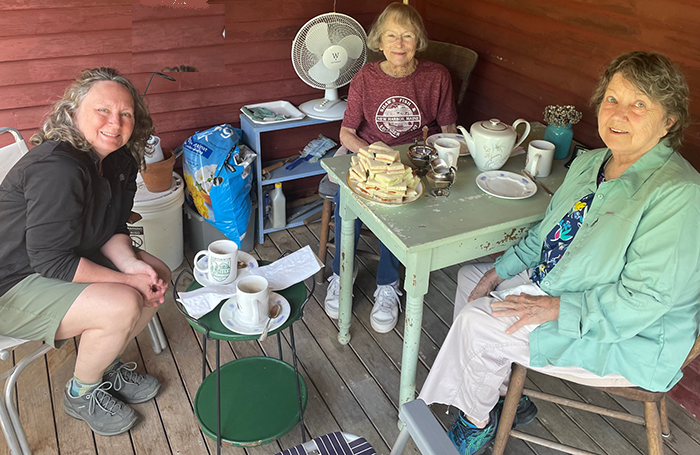 At Pemaquid Beach:
.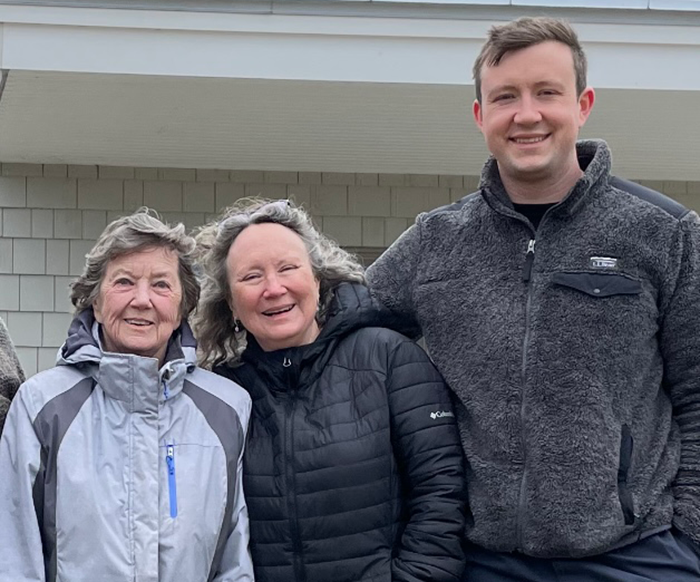 © 2023 by Ruth Doan MacDougall; all rights reserved.
   PARKING & OTHER SUBJECTS
February 26, 2023
In The Cheerleader, on Snowy and Tom's first date when he is driving her to Bev's house after the movies, I wrote:
Tom put out his cigarette and cleared his throat. He began clowning. "I don't suppose you're the sort of girl who goes parking."
"Never!" she said, and managed to laugh.
That word "parking" certainly had a double meaning in my high-school days, so no wonder I did a double take when I glanced at a review in the February 6th issue of Publishers Weekly and these words in the book's title jumped out at me: "How Parking Explains the World." Then I saw that the words were in the subtitle. The full title was Paved Paradise: How Parking Explains the World. Okay, not that high-school parking; but I settled down to read the review of this book by Henry Grabar, to be published by Penguin Press in May.
The review begins,
"In our quest to make it as easy as possible to park, we've made it awfully hard to do anything else,' according to this eye-opening jeremiad from Slate columnist Grabar (editor of The Future of Transportation). Noting that, in the U.S., 'more square footage is dedicated to parking each car than to housing each person,' Grabar explains how mandatory parking minimums, which require a disproportionate number of parking spaces for new construction projects, severely limit options for building more housing and improving public transit and traffic patterns."
It concludes,
"Contending that parking 'is access of the most superficial sort, one that often papers over deeper inequities we're unwilling to address,' Grabar builds a powerful case that making parking a little more scarce will make Americans' lives a lot better."
Also in this issue of PW I enjoyed a review of Excellent Advice for Living: Wisdom I Wish I'd Known Earlier, by Kevin Kelly, to be published by Viking in May. It says,
"In this insightful entry, Kelly (The Inevitable), a founding editor of Wired, collects pearls of wisdom for all stages of life. When he turned 68, the author began what would become a birthday tradition: compiling bits of advice for his adult children, eventually coming up with the 450 snippets collected here that touch on finances, parenting, relationships, self-awareness ('A great way to understand yourself is to seriously reflect on everything you find irritating in others') [Me: such as the way I recoil in horror at split infinitives], and patience ('Become just a teeny bit better than you were last year. Repeat every year') . . . the entries are genuinely thought-provoking, and Kelly's earnestness is leavened with refreshing humor."
In this issue there was one cookbook review, which of course I also enjoyed: Mind over Batter: 75 Recipes for Baking as Therapy by "Therapist and baking enthusiast" Jack Hazan, to be published by Chronicle in March. The review tells us that "he organizes recipes around therapeutic goals: self-care, mindfulness, finding comfort, dealing with stress and anxiety, defusing frustration, connecting with others, and finding joy . . . one can find comfort kneading and braiding rich dough for Jack's Famous Challah, or destress with cardamom-laced Feeling Peachy Galette."

And reading this, I thought of how, with Bev after the date with Tom, Snowy tried to relieve stress by making a marshmallow-fluff-and-raspberry-jam sandwich.
©2023 by Ruth Doan MacDougall; all rights reserved.
CONCORD
February 19, 2023
  Concord, New Hampshire's state capital, was the first big city that Penny and I saw in our childhood, the first we came to on trips in our parents' 1940s gray Mercury shaped like a big upside-down bathtub. The trips from Laconia to Lexington, Massachusetts, to visit our grandparents continued on to Manchester, New Hampshire's biggest city, and Nashua, the most worrisome because we'd overheard our parents say it had "speed traps" and people got "tickets," which, we'd gathered, was very bad. And then, on into Massachusetts!
  I thought of those trips recently when my friend Wanda and I started off from Sandwich to my appointment at Concord Orthopaedics. But when we reached New Hampton I was momentarily diverted as we approached the 104 Diner, which always has an amusing message on its sign. Today it said, "Ketchup with Friends."
We laughed, and onward we went, onto I-93 south. Eventually I saw Exit 16, the exit I'd learned about when I was updating my father's 50 More Hikes in New Hampshire; this exit leads to Oak Hill, and over the years I did the hike several times with Sandwich's Over-the-Hill Hikers. My father wrote about Oak Hill:
  "On your approach to the 990-foot summit, fascination grips you as you walk through—as G. M. Trevelyan describes the poetry of history—'that land of mystery which we call the past.' The aura of time lost haunts New Hampshire woods. Farmers, tradesmen, blacksmiths, carpenters, housewives, grandmothers, young lovers, and laughing or crying children lived and died here. Trevelyan points out: 'Their place knows them no more and is ours today. Yet they were once as real as we, and we shall tomorrow be shadows like them. In men's first astonishment over that unchanging mystery lay the origins of poetry, philosophy, and religion...'
  "[On the summit] a scant 5 miles away toward the southwest the state capitol's dome glistens golden in the sunshine. Below the dome New Hampshire's General Court, as our legislature is known, meets in Concord, if not in concord."
  Wanda and I went on to the exit for downtown Concord. We came to the junction with North Main Street, to the corner where there used to be Angelo's, "The Largest and Best-Known Italian Restaurant North of Boston"! Our parents never stopped to dine during a trip except (rarely, big treat) at a Howard Johnson's, so I had to imagine Angelo's exotic cuisine, far different from canned Franco-American spaghetti or the spaghetti sauce my mother made in her pressure cooker. Decades later, when an Olive Garden arrived in Concord, during Concord errands Don and I always had lunch there—and talked about the old thrill of seeing Angelo's Restaurant, which we'd only seen from the outside.
  Wanda and I didn't turn onto the main streets, but I remembered doing so often, on those Lexington trips and other times, from shopping for a prom dress in this big city to giving a talk and signing books at the wonderful Gibson's Bookstore.
Instead, Wanda and I zigzagged on residential streets, through neighborhoods of fine old houses, varieties of architecture, dormers, gingerbread. We observed that many of them seemed to be broken up into apartments nowadays.
  After my appointment, as we waited at a stoplight before getting on the turnpike again, we saw that the car in front of us had a vanity license plate that announced: "NoGas." An electric car! And I thought of my parents' old Mercury.
©2023 by Ruth Doan MacDougall; all rights reserved.
BIRD FOOD AND SUPER BOWL FOOD
February 12, 2023
When the thermometer was down to eighteen below zero a week ago Saturday morning, for the first time that I can recall I didn't put out the bird feeder. Even though it's winter and bears are supposed to be asleep, I still bring the feeder in at night just in case there's an insomniac in the neighborhood. Then each morning I refill it and take it out at dawn. Not Saturday, and I felt terribly guilty as chickadees perched on the pole where the feeder should be, looking around hungrily. Later when the temperature had shot up to eleven below, I hastened outdoors.
Then last Monday the temperature got up to forty degrees above zero! And when I went outdoors I heard a chickadee down by the brook doing a wistful springtime call.
For years we've used a Droll Yankee tube-type of bird feeder, so I was intrigued to see in the January/February issue of Yankee magazine an article about its inventor. "For the Birds: How a Rhode Island tinkerer built a better feeder" by Joe Bills tells us that Peter Kilham "had a passion for inventing . . . Kilham began reflecting on the bird feeder in his yard. A wooden log with drilled holes for holding suet, it was homely and messy, and birds didn't seem to find it particularly interesting. So he began brainstorming a model that would be attractive, easy to clean and fill, and able to entice a variety of birds by serving up seed instead of suet.
"What he came up with was the birding world's first tube feeder, a style widely used today. Topped with a rugged metal cap to discourage squirrels . . . it was a hit with both birds and the National Audubon Society . . . "

Changing the subject from bird food to people food, specifically Super Bowl food: I always enjoy the sight of people making Super Bowl food on TV, and I have again this year. Buffalo-flavored everything?! In February 2017 I wrote here that I was tempted by some of the recipes, especially "Lynn Archer's Crab Tots, made on a Maine TV program called '207.' Her idea is Tater Tots—with crabmeat; in this instance, of course, Maine crab . . .
"But I knew all along that our Super Bowl treat will be our usual one nowadays: Don's clam dip (he's making it these days with simply Bar Harbor Chopped Clams, cream cheese, a few shots of Tabasco). However, I found myself looking through the Appetizers in my recipe file box, wondering if I might make another old favorite . . . and then I got sidetracked entirely by friendship. By the names of friends on the recipe cards, back through years and years, friends' favorite appetizer recipes.
"The names of these recipes themselves seemed full of history, of get-togethers and parties, suppers and dinners, from that good old Lipton Onion Soup Dip to Wagon Wheel Cheese Spread, Sardine Dip, Cocktail Cucumbers, Swedish Liverwurst Appetizer, Cheese and Chutney Spread, Stuffed Mushroom Caps, and Pickled Eggs!"
There's more history on my mind. As I probably mention every year, February 11 is the anniversary of our first "date," which wasn't really a date. In 1955 at a high-school dance after a basketball game, Don—Don!—cut in while I was dancing with an old boyfriend. Don and I kept on dancing; he took me home. Remembering, I sometimes sing My Fair Lady's "I Could Have Danced All Night." But the lines about how "I'll never know what made it so exciting/Why all at once my heart took flight" do not apply to me. I knew and I know: I was dancing with DON!!!
©2023 by Ruth Doan MacDougall; all rights reserved.
THE COLD SNAP
February 5, 2023
The "cold snap" that's been in the news has now reached us, and I thought of the cold memories that I wrote about here in January 2015:
"I hope you've been keeping warm this past week, if you're in the deep-freeze area of the TV weather maps.
"When Don complains about the cold, I always remind him (in my annoying look-on-the-bright-side way) about the times it was colder. 'Remember,' I say, 'when it was forty below and we were living in an uninsulated house and your father phoned to see if we were still alive? Remember when the Jeep's tires froze to the barn floor and you had to walk to work in foul-weather gear? Remember when—'
"And I remember the Christmas week we spent in Paris in 1965 and its aftermath, the time when I was coldest. We flew to Paris from England, where we were living, for this adventure (made even more adventuresome by my rusty high-school French!). Our guidebooks were Europe on $5 a Day and Hemingway's Moveable jFeast. . We walked and walked, looked and looked, and sat in glassed-in sidewalk cafes.
"After, we flew back to London and got a night train north to our home in Suffolk. For some reason (we can't remember if we ever knew why), the train was unheated, our compartment a refrigerator. Back in those days, you dressed up for travel, so I was wearing only a lined trench coat over a sweater and (nearly mini-)skirt. Tights. Thin leather knee-high boots. Don was a little better off, wearing trousers, but just chinos. A few other people were on the train, and they were suffering, too. I kept thinking that this couldn't be happening, that the heat would be fixed or the conductor would appear with an armload of emergency blankets. Nope.
"Well, we did survive, snuggling like the French couples whose unselfconscious amour we two New Englanders had been admiring during the past week."

To change the subject to a warmer one, flowers and food: After writing about shortbread here last week, I was amused to see a mention of shortbread in the January 16th issue of Publisher's Weekly (I always seem to be a week or more behind in my reading of PWs). In the "Lifestyle" Cooking section, there was a review of Eat Your Flowers, by Loria Stern, to be published by Morrow in April. It begins, "California chef Stern uses botanicals to craft eye-catching dishes in her offbeat debut. She starts with a guide to edible botanicals, outlining their flavor profiles and typical uses, and many of her recipes come with the option for several variations." It continues, "Baked goods provide the best canvas for Stern's visual artistry, as she presents buttermilk biscuits with fresh herbs pressed into the surface and various desserts decorated with flowers, including shortbread cookies."
Isn't that a warming image!
©2023 by Ruth Doan MacDougall; all rights reserved.
LAUGHTER AND LORNA
January 29, 2023
Last week I started off here with a Daily Stumper question about tea, and today I have one on another subject. Tuesday, January 24, was Belly Laugh Day, and of course that inspired the Daily Stumper on Maine's WCSH-TV's "Morning Report," a question about the best medicine, laughter: What can't laughter cure? Multiple choice: (a) heart disease; (b) anxiety; (c) arthritis; (d) common cold.
I guessed "d" and so did two of the three hosts; the third went for "c." Aha, the correct answer was "d."
Earlier that morning I had read the daily meditation in Martha Hickman's Healing After Loss, as I've been doing every morning these past four years, and the day's quotation was one I've mentioned here before, a French proverb: "The day is lost on which one has not laughed."
And last week I was thinking about biscuits. This week I was thinking about shortbread—in particular Lorna Doones. Recently my friend Wanda and I had taken a snack break during errands and split a little packet of Lorna Doones. Amused, we both remarked that we'd forgotten how much we enjoyed these shortbread cookies.
Lorna Doones were my childhood introduction to shortbread, a confusing word to me because I'd learned "shortcake" first and I had to stop and sort out both words, reminding myself that shortcake was a biscuit served with strawberries.
I was also confused because Lorna Doone was the title of a book and the name of its heroine. This novel by R. D. Blackmore wasn't one of my childhood books that I reread. Once had been enough for me, and now, all these years later, I couldn't remember anything about the plot except it was complicated. So I've Googled—and eek, it is complicated! Wikipedia begins, "Lorna Doone: A Romance of Exmoor, by English author Richard Doddridge Blackmore, published in 1869. It is a romance based on a group of historical characters and set in the late 17th century in Devon and Somerset . . ." Wikipedia also told me that "It's never been out of print" and "Apparently Blackmore invented the name 'Lorna,' possibly drawing on a Scottish source." And I learned in Britannica that "Blackmore was a reserved but kindly man who was prouder of his orchard than of his 14 novels."
Was the Scottish connection the reason the cookie got the heroine's name? More Googling. Wikipedia said, "Introduced in March 1912, it was possibly named after the main character in R. D. Blackmore's 1869 novel, Lorna Doone, but no record exists as to the exact motivation behind the name. The original cookie recipe came from the Malloys. Emily and John, who came from County Cork, Ireland." Food Reference said, "Lorna Doone was of Scottish heritage and shortbread was considered Scottish."
These shortbread cookies were simple, bland, and handy when there were none of my mother's Toll House cookies in the cookie jar. Don and I got acquainted with "real" shortbread when we went to Britain—especially Walker's; their recipe dates back to 1898.
Don and I used to celebrate Burns Night, January 25th, with Scottish food, which usually included smoked salmon and Walker's shortbread. This year I celebrated with another little packet of Lorna Doones!
©2023 by Ruth Doan MacDougall; all rights reserved.
          TEA AND DIGESTIVE BISCUITS
January 22, 2023
On January 12th, Maine's WCSH-TV's "Morning Report" told me that the day was National Hot Tea Day. To celebrate it, the "Morning Report" Daily Stumper Question was: How many cups of tea a year does the average British person drink? Multiple choice: (a) 365; (b) 540; (c) 705; (d) 875.
I decided it had to be more than one cup a day so I guessed c. The three hosts of the program did the same reasoning and also guessed c. We were all wrong. Correct answer: d, 875 cups. And there was additional information: "The Republic of Ireland is the top tea-drinking nation."
One of Penny's Christmas presents to me was a box of McVitie's Digestive Wheat Biscuits, Made in the UK. The box said, "McVitie's biscuits have been baked to perfection with British recipes since 1839. The original Digestive was first made in 1892. They are made with the finest wholesome ingredients."
What memories they brought back! To begin with, there was the mystery in my childhood books, when I wondered why British people were eating biscuits (such as the baking-powder biscuits my mother made) the way we would eat cookies. Finally I figured out these British biscuits were cookies!
And then there are the memories from trips to Britain, in particular the visit Penny and I made to the Cotswolds that I've written about here. During our three weeks there, with our tea or coffee we had scones and jam, we had pastries, and we also had biscuits. I especially remember having biscuits on a day trip from our "self-catering cottage" in Chipping Campden to Stroud and the area where Laurie Lee had lived. I'd read some of his poems years before and recently Penny and I had read his memoir, Cider with Rosie.
As I wrote in my journal:
"At 9:50, off to Laurie Lee country in the misty finally-English weather after all this sun . . . At 11, we drove into Stroud, which The Cotswolds guidebook calls 'An industrial town since the Middle Ages, the centre of the Cotswold cloth industry by 1500.'" We parked and walked down steep Cornhill. "We thought of Laurie Lee's sisters leaving the cottage in his nearby village of Slad to go to work. He wrote, 'They hitched up their stockings, patted their hats, and went running up the bank. This was the hour when walkers and bicyclists flowed down the long hills to Stroud, when the hooters called through the morning dews and factories puffed out their plumes. From each crooked corner of Stroud's five valleys, girls were running to shops and looms, with sleep in their eyes, and eggy cheeks, and in their ears night voices fading.'
"Down and down Cornhill we walked, seeing an All Creatures Great and Small Pet Shop on a side street, back along the road to the brick-and-ivy London Hotel, where a waitress looked a bit startled at our arrival but at our request for the morning coffee advertised outside showed us into a small bar full of ornate gray-brown plush furniture. Sounds of china and hoovering came from the restaurant section. We were served on a low coffee table a pot of coffee and a plate of biscuits, including a chocolate one, which we split."
Oh, how I remembered that morning coffee in Stroud with Penny as I opened the box of McVitie's and took out the first biscuit!
©2023 by Ruth Doan MacDougall; all rights reserved.
DUCKS, MORNINGS, AND WONDERS
January 15, 2023
Knowing my love of Maine, my dear friend Sandy gave me two beautiful books for Christmas: classics set in Maine, Robert McCloskey's One Morning in Maine and Time of Wonder. I hadn't read either of them! They were published in 1952 and 1957 respectively, past my childhood. So the joyous experience of these books has occurred now, in my eighties!
The Robert McCloskey book that our parents read and reread to Penny and me was Make Way for Ducklings, published in 1941. It's set in Boston, and we'd heard a lot about Boston because our mother grew up nearby in Lexington. Mostly I remember how the swan boats in the Public Garden were part of the ducks' story and how I longed to ride on one around the Garden's pond. But it wasn't until the summer of 1958 that I did. I was living with my grandparents in Lexington and working as a typist at Beacon Press in Boston, where I'd also worked that winter during Bennington's Non-Resident Term. Don and I were married; he was in the Coast Guard, spending a leave in Lexington with me. And my friend Gail (the inspiration for Puddles) was attending the nursing school at Massachusetts General Hospital in Boston. Gail and I decided it was time at last for a swan-boat ride and insisted Don come along. A good sport, he did. So instead of being on his Coast Guard ship on the high seas, there he was seated aboard a swan boat, two giggling girls beside him.
In One Morning in Maine, I was particularly entranced by the drawings of Jane, the baby sister. I have a baby sister—Penny! In the scenes in which Jane appears, she's always doing something different from what Sal, her older sister, and others are doing. She's under the kitchen table with the cat; she's seated in her high chair at the kitchen table, where she has spilled her glass of milk on the floor and is watching the cat lap it below. When Sal and Jane and their father get into their boat to set forth on their big event of the day, a trip to the store at Buck's Harbor, the outboard motor won't start so he has to row; in the harbor they take the outboard motor to the village garage, and while everybody else is looking at it, Jane is clambering into a pile of tires.
Then they go to the village store. I knew how Sal felt when she gave the store's owner her chocolate-ice-cream-cone order and explained about Jane's order: "Hers is supposed to be vanilla, so the drips won't spot, and you'd better push it together tight, so it won't drop off," Sal dictated, "because she's still almost a baby... "
Time of Wonder begins, "Out on the islands that poke their rocky shores above the waters of Penobscot Bay, you can watch the time of the world go by, from minute to minute, hour to hour, from day to day, season to season." In the 1980s Don and I began "collecting Maine islands," as we joked, starting with one farthest away, Matinicus. Then over the years we went to Vinalhaven, North Haven, Swan's, Monhegan, until Don saw an ad in Down East magazine about a cottage rental on Isle au Haut, and that became "our" island, the place we spent one or two weeks in September when our caretaking work had calmed down after Labor Day. My fictional Quarry Island was inspired by all of our collection—and also by Bali Ha'i!
Thank you, Robert McCloskey and Sandy.
©2023 by Ruth Doan MacDougall; all rights reserved.
SNOWFLAKES
January 8, 2023
I think of the first page of a Vermont Country Store catalogue as a combination of a letter to customers, an essay, and an editor's note. It's from the Orton family, the proprietors of the store, and I always enjoy it.
In the latest catalogue, "Early Winter 2023," the page is titled "Finding Flowers in the Snow." It's about Wilson "Snowflake" Bentley, "the Vermont scientist, born in 1865, who became famous for proving that no two snowflakes are identical . . . He called snowflakes 'ice flowers' and 'tiny miracles of beauty' . . . Until Bentley, snow was mostly thought of as a mass quantity—so many inches fallen, so many tons to be moved, so many miles to be trudged across."
Here in Sandwich at the start of 2023, we do have some snow on the ground but the weather has been rainy. People have been saying, "I miss the snow— but I don't miss the shoveling!" I automatically agreed until I realized that in a way I do miss shoveling. Am I actually nostalgic for the years when Don and I shoveled professionally???
          In February 2015, I wrote here:
We didn't get the full force of last week's snowstorm, but there's been a lot of shoveling. I was reminded of a time when we shoveled professionally, as it were. Amongst Don's several jobs while at Keene Teachers' College was a job taking care of a second home owned by a Massachusetts couple. This included shoveling. I had joined him at Keene by then and we were living in an apartment in the rather spartan married students' barracks. The experience ended up in my novel THE COST OF LIVING, thus:
The house was an old white Colonial, used only in summers and for skiing. When the snow came, Polly went with Brad on Friday afternoons to help shovel. The afternoons grew dark as they worked, she told me, and he would switch on the [car's] headlights so they could see . . . Where the driveway met the front walk she would rest for a moment, sweating and shivering, while Brad worked past her toward the garage. The angle of the headlights made his shadow long against the snowbanks, and in the darkness the old tress creaked.
Then, when she had shoveled out the walk and reached the front door and gone back and helped Brad finish, Brad turned off the headlights and got out the paper bag of supper, tuna fish sandwiches. She had to pull her icy mittens away from the shovel handle to be able to unlock the front door. Snow was packed deep in her boots, and she couldn't feel her toes. Inside the house, Brad turned up the furnace left on so the pipes wouldn't freeze, and she made instant coffee. As they sat in the comfortably shabby living room and picnicked, her yearning for a house of their own like this one grew so fierce she was almost sick.
And in 2023 I can look back and smile at how that youthful professional shoveling of ours was a preview of the shoveling decades later when we started our little caretaking business.
Oh, yes, I am nostalgic.
©2023 by Ruth Doan MacDougall; all rights reserved.
A NEW YEAR'S RESOLUTION
January 1, 2023
I usually toy with New Year's Resolutions, but this year I know exactly what I'm resolving.
In October I wrote here about a piece in Publishers Weekly written by Sari Feldman, librarian and past president of the Public Library Association and the American Library Association. She explained that she overcame being "self-conscious" about preferring fiction, about wanting to read more fiction than nonfiction, when she learned from Richard Restak, clinical professor of neurology and author of books about the brain, that reading more fiction is at the top of his list for "supporting memory health as we age." Reading novels is good for you!
I wrote that I had overcome my guilt about reading fiction by making myself read all the nonfiction reviews in Publishers Weekly; I didn't read most of the books, but at least I read the reviews. Well, now I've resolved that I won't even read all the nonfiction reviews. I can skip or skim.
Of course, being a worrier like Snowy, I'm worried that I'll miss some special tidbit. Here are three examples of tidbits I'm glad I didn't miss:
\ Urban Jungle: The History and Future of Nature in the City, by Ben Wilson; to be published by Doubleday in March. The review tells us, "'The city is an ecosytem,' contends historian Wilson (Metropolis) in this thorough exploration of urban ecology . .. Wilson is optimistic about the progress being made to ameliorate ecological damage, detailing such 'rewilding' projects as the transformation of a garbage dump into a park in New York City . . . Wilson's account of these efforts makes a convincing case that the natural world extends farther than commonly acknowledged, and the trivia is delightful (London pigeons take the tube to travel between their nests and food sources)." Commuting pigeons!
Koala: A Natural History and An Uncertain Future, by Danielle Clode, to be published by Norton in January: "Koalas 'deserve better than to be simultaneously patronized as fluffy children's toys and left to suffer from increasing diseases in ever-reducing habitats," according to this entertaining paean to the marsupials [by] Australian biologist Clode (Voyages to the South Seas) . . . She highlights the creatures' extraordinary senses and notes that they are one of the few animals known to have fingerprints, which may enhance their ability to sense vibrations." Fingerprints!
This Is What It Sounds Like: What the Music You Love Says about You, by Susan Rogers and Ogi Ogas, published by Norton in September. "'Be it records or romantic partners, we fall in love with the ones who make us feel like our best and truest self,' writes music producer and neuroscientist Rogers in this pitch-perfect deep dive into the power of music . . . Most resonant is Rogers's fascinating foray into the ways our mind and music connect; because 'our auditory circuitry has more varied and direct connections to our emotion circuitry than does our visual circuitry,' she writes, 'music activates our mind wandering network—and our personal self— more easily and fully than any other art form.' Combining erudite analysis with plenty of soul, this will have music lovers rapt." Oops; this certainly is more than a tidbit, isn't it.
Happy New Year!
©2023 by Ruth Doan MacDougall; all rights reserved.
2023
Frappes, Etc. (June 25)
Still Springtime (June 18)
Wildefires to Dougnnts (June 11)
In the Bedroom (June 4)
Dried Blueberries (May 28)
More Items of Interest (May 21)
F(ire Towers (May 14)
Anne, Emily, and L.M. (May 7)
Earthquake, Laughter, and Cookbooks (Apr30)
Springtime and Poems (April 23)
Cookbooks and Poems (April 16)
Items and Poems (April 9)
Two Pies (April 2)
Audiobooks (March 26)
The Cheeleader's 50th Anniversary (Mch 19)
The Lot, Revisited (March 12)
Penny (March 5)
Parking and Other Subjects (February 26)
Concord (February 19)
Bird Food and Superbowl Food (February 12)
The Cold Snap (February 5)
Laughter and Lorna (January 29)
Tea and Digestive Biscuits (January 22)
Ducks, Mornings, & Wonders (January 15)
Snowflakes (January 8)
A New Year's Resolution (January 1)
2022

Jingle Bells (December 25)
Fruitcake, Ribbon Candy &Snowball.(Dec. 18)
Christmas Pudding (December 11)
Amusements (December 4)
Weather and Woods (November 27)
Gravy (November 20)
Brass Rubbing (November 13)
Moving Day (November 6)
Sandwiches and Beer (October 23)
Edna, Celia, and Charlotte (Octobert 16)
Sandwich Fair Weekend (October 9)
More Reuntions (October 2)
A Pie and a Sandwich (September 25)
Evesham (September 18)
Chawton (September 11)
Winter's Wisdom? (September 4)
Vanity Plates (August 28)
2022 Golden Circle Luncheon (August 21)
Agatha and Annie (August 14)
National Dog Month (August 7)
The Chef's Triangle (July 31)
Librarians and Libraries (July 24)
Clothes and Cakes (July 17)
Porch Reading (July 10)
Cheesy! (July 3)
The Summer Book (June 23)
Bears & Goats & Motorcycles ...(June 19)
Tuna Fish (June 12)
Laconia (June 5)
More Publishers Weekly Reviews (May 22)
Shopping, Small and Big (May 15)
Ponds (May 8)
The Lakes Region (May 1)
TV for Early Birds; An April Poem (April 24)
Family; Food; Fold-out Sofas (April 17)
Solitary Eaters (April 9)
National Poetry Month (April 3)
Special Places—Popular Cakes(March 27) Neighborhood Parks ( (March 20)
More About Potatoes—and Maine (March 13)
Potatoes (March 6)
Spring Tease (February 27)
Pillows (February 20)
Our Song (February 13)
Undies (February 6)
Laughter (January 28/30)
A Burns Night (January 23)
From Keats to Spaghetta Sauce (January 16)
Chowder Recipes (January 9)
Cheeses and Chowders (January 2)
2021
The Roaring Twenties (December 26
Christmas Traditions (December 19)
Trail Cameras (December 12)
Cars and Trucks(December 5)
Return? (November 28)
Lipstick (November 20)
Tricks of the Trade (November 12)
A New Dictionary Word (November 7)
A 50th Reunion (October 31) "
Sides to Middle" Again (October 23)
Pantries and Anchovies (October 1i7)
Fairs and Festivals (October 10)
Reunions (October 3) A Lull (September 26)
The Queen and Others (Sept. 19)
Scones and Gardens (Sept.12)
Best Maine Diner (September 5)
Neighborhood Grocery Store; Neighborhood Café (August 28)
PW Picks of the Week (August 21)
A Goldilocks Morning_and More (August 15)
Desks (August 8)
Sports Bras and Pseudonyms (August 1)
Storybook Foods (July 25)
Rachel Field(July 18)
The Bliss Point (July 11)
Items of Interest (July 4)
Motorcycle Week 2021 (June 27)
Seafood, Inland and Seaside (June 20)
Thrillers to Doughnuts (June 13)
National Trails Day (June 6)
New Hampshire Language (May 30 )
Books and Squares(May 23)
Gardening in May (May16)
The Familiar (May 9)
Synonyms (May 2)
"Bear!" (April 25)
Blossoms (April 18)
Lost Kitchen and Found Poetry (April 11)
More About Mud (April 4)
Gilbert and Sullivan (March 28)
St. Patrick's Day 2021 (March 21)
Spring Forward (March 14)
A Blank Page (March 7)
No-Recipe Recipes (February 28)
Libraries and Publishers Weekly (February 21)
Party; Also, Pizza (February 13)
Groundhog Day (February 6)
Jeeps (January 31) Poems and Paper-Whites (January 24) Peanut Butter (January 17)
Last Wednesday (January 10)
Hoodsies and Animal Crackers (January 3)
2020
Welcome, 2021
December 27
Cornwall at Christmastime
( December 20)
Mount Tripyramid
( December 13)
New Hampshire Pie
( December 6)
Frost, Longfellow, and Larkin
( November 29)
Rocking Chairs
( November 22)
Thanksgiving Side Dishes
( November 15)
Election 2000
( November 8)
Jell-O and Pollyanna
( November 1)
Peyton Place in Maine
(October 25)
Remember the Reader
(October 18)
Sandwich Fairs In Our Past
(October11)
Drought and Doughnuts
(October 4)
Snacks
(September 27)
Support Systems, Continuing
(September 20)
The 85 Best Things to Do in New England
(Sept
Dessert Salads?!
(September 6)
Agatha Christie's 100th Anniversary
(August 3
Poutine and A Postscript
(August 23)
Pandemic Listening and Reading
(August 16)
Mobile Businesses
(August 9)
Backyard Wildlife
(August 2)
Maine Books
(July 26)
Garlic
(July 19)
Birthday Cakes
(July 12)
A Collection of Quotations
(July 5)
Best of New Hampshire
(June 28)
Hair
(June 21)
Learning
(June 14)
Riding and "Broading" Around
(June 7)
Sunday Drives, Again
(May 31)
The Passion Pit
(May 24)
Schedules & Sustenance
(May 17)
Doan Sisters Go to a British Supermarket
(April
National Poetry Month 2020
(April 12)
Laconia
(May 10)
Results
(May 3)
Singing
(April 26 )
Dining Out
(April 19 )
Red Hill
(March 29)
An Island Kitchen
(March 22)
Pandemic and Poetry
(March 15)
Food for Hikes
(March 8)
Social Whirl in February
(March 1)
Two Audiobooks and a Magazine
(February 23)
Books Sandwiched In
(February 9)
Mailboxes
February 2)
Ironing
(January 26)
The Cup & Crumb
(January 19)
Catalogs
(January 12)
Audiobook Travels
(January 5)
2019
Christmas Weather
(Dec. 29
)
Christmas in the Village
(Dec. 22)
Marion's Christmas Snowball, Again
(Dec. 15)
Phyliss McGinley and Mrs. York
(December 8)
Portsmouth Thanksgiving.
(December 1)
In the Dentist's Waiting Room, Again.
(Nov. 24
Louisa and P.G.
(November 17)
The First Snow
(November 10)
Joy of Cooking
(November 3)
Over-the-Hill Celebration
(October 27)
Pumpkin Regatta
(October 20)
Houseplants, New and Old
(October 13)
Pumpkin Spice
(October 6)
Wildlife
(Sept 29)
Shakespeare and George
(Sept 22)
Castles and Country Houses
(Sept 15)
New Hampshire Apple Day
(Sept 8)
Maine Woods and Matchmaking
(Sept 1)
Reunions
(August 25)
Sawyer's Dairy Bar
(August 18)
Old Home Week
(August 11)
Summer Scenes
(August 4)
Maine Foods
(July 28)
Out of Reach
(July 21)
This and That, Again
(July 14)
The Lot
(July 7)
Pizza, Past and Present
(June 30)
Setting Up Housekeeping
(June 23)
Latest Listening and Reading
(June 16)
Pinkham Notch
(June 9)
A Boyhood in the Weirs
(June 2)
The Big Bear
(May 26)
It's Radio!
(May 19)
Archie
(May 12)
Department Stores
(May 5)
Spring Is Here!
(April 28)
Dorothy Parker Poem
(April 21)
National Library Week, 2019
(April 14)
National Poetry Month, 2019
(April 7)
Signs of Spring, 2019
(March 31)
Frost Heaves, Again
(March 24)
Latest Reading & Listening
(March 17)
Car Inspection
(March 10)
Snowy Owls & Chicadees
(March 3)
Sandwiches Past and Present
(February 23)
Our First Date
(February 17)
Ice Fishing Remembered
(February 10)
Home Ec
(February 3)
A Rockland Restaurant
(January 27)
Kingfisher
(January 19)
Mills & Factories
(January 13)
Squirrels
(January 6)
2018
Clothesline Collapse (December 2)
Thanksgiving 2018 (November 25)
Bookmarks (November 18)
A Mouse Milestone (November 11)
Farewell to Our Magee (November 4)
Sistering (October 28)
Sears (October 21)
Love and Ruin (October 14)
A New Furnace (October 7)
Keene Cuisine September 30)
A Mini-Mini Reunion (September 23)
Support System (September 16)
Five & Ten (September 9)
Dining Out Again (September 2)
Summer Listening (August 26)
Donald K. MacDougall 1936-2018 (August 19)
Update--Don (August 12)
Telling Don (August 5)
Don's Health (July 29)
Seen and Overheard (July 22)
Donald Hall (July 15)
Fireworks (July 8)
Off Season (July 1)
A Clean, Well-Lighted Place (June 24)
2018 Motorcycle Week (June 17)
Springtime Sights (June 10)
Seafood at the Seacoast? (June 3)
Lilacs (May 27)
Going Up Brook, revisited (May 20)
The Weirs Drive-In Theater (May 13)
The Green and Yellow Time, (May 6 )
Recipe Box and Notebook (April 29)
Henrietta Snow, Second Printing (April 21)
Miniskirts and Bell-Bottoms (April 14)
The Poor Man's Fertilizer (April 7)
The Galloping Gourmet (April 1)
The Old Country Store (March 25; First FB entry)
Earlier: :Ruth's Neighborhood
(multiple entries, 2011 - 2017)